I am a dreamer!
It has been 3 years since I launched, my book A Childfree Happily Ever After into the world and it got me thinking "well, what next?"
Never one to be idle, I had this crazy idea of creating a magazine that was just for childfree people. Imagine if there was a media source dedicated just to us. Imagine a magazine that didn't celebrate motherhood, pregnant celebrities and had no kids in it
It was time to make it a reality.
The mission: To unite a global childfree community with a focus on lifestyle, issues, sharing real-life stories, and giving childfree people a voice and a sense of belonging in a like-minded community.
The journey
I knew this needed money to make it a reality. That is the world we live in. So, I launched a Go Fund Me campaign for two reasons.
To raise the money to get this crazy idea off the ground
As proof that the community wanted it and would support it (if it had no legs then it was a waste of time)
I knew what I wanted the magazine to be. I wanted it to be positive, uplifting, spirited that support, share, and encouraged. I also did not want it to be "mum bashing" or focus on negatives. I wanted it filled with the voices within our global Childfree community.
I also knew that I could not possibly write all the content for it. I need the voices in the community to contribute to it. The right people found their way to me and submitted some fantastic content that I loved reading and know that my childfree community would to.
CHILDFREE MAGAZINE shares real-life issues, how-to, advice, real-life stories, books, travel, lifestyle and anything identifies as being highly relevant to the Childfree community.  See for yourself.
For the naysayers and critics, I will never please everyone and of course, you are entitled to your opinion. But please remember that a lot of work has gone into creating this first edition. I am not a magazine publisher by trade. Most of our writers are not journalists but we are all passionate individuals with a voice on childfree topics.
There might be articles you don't like or cannot relate to but someone else can. There will images and quotes that you don't like but someone else will.  You might not like the cover but other people do. Ask 100 people and you will get 100 different opinions. That's fine just be constructive about it.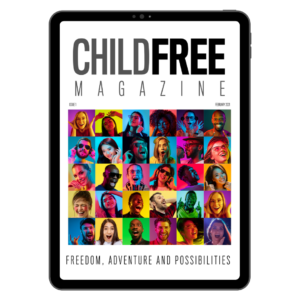 I love the end result and think it is a very strong effort for a first edition. If it's got support from the global childfree community then I hope it is the start of many more to come
What now?
Now the first edition is launched we have something to show the world, potential sponsors, advertisers and subscribers. Next massive task is to promote the hell out of it across the world. We need to get it featured on podcasts, in the mainstream media, in blogs, on radio, in online groups, everywhere we can. As a community I am relying on you to help spread the word
I will take the feedback on board so we can tweak it and make changes for the next edition. It will evolve and it is not perfect. But it is something we can call our own.
I, for one, am proud of it!
You can buy your copy of CHILDFREE Magazine  HERE
Happy reading
Tanya xo

https://childfreehappilyeverafter.com.au/wp-content/uploads/2021/02/CFM-ON-TABLET.png
1080
1080
Tanya Williams
http://childfreehappilyeverafter.com.au/wp-content/uploads/2018/08/173465.ba2cf34f29fac3b72cc14b2877984e59.jpeg
Tanya Williams
2021-02-06 08:51:16
2021-02-06 11:36:52
CHILDFREE MAGAZINE: A world first just for the childfree community